ICT Innovation Fest Launching Ceremony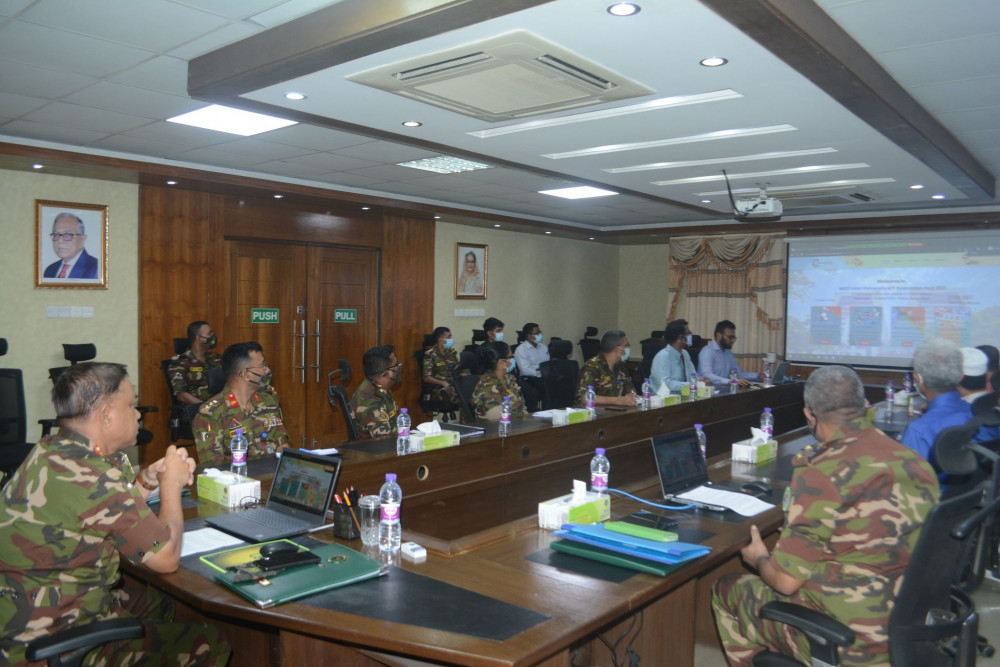 MIST Inter-University ICT Innovation Fest 2021
To celebrate Bangladesh's glorious Golden Jubilee of Independence, Dept of CSE, MIST is arranging the "MIST Inter-University ICT Innovation Fest" on October 22-23, 2021. The objective of this event is to facilitate a platform where young and talented minds from around the nation can share their innovative ideas, projects, and prototypes that leverage ICT to solve the problems we face as a nation today.
The Department of CSE, MIST has always been at the forefront in taking initiatives to inspire technology and innovation in the minds of the young students. We are proud to have successfully organized the MIST Inter-University programming Contest (MIST IUPC) in 2019 with LICT and the flagship National Collegiate Programming Contest (MIST NCPC) with ICT Division in 2020, where 58 and 79 universities and institutions from around the nation participated respectively.
This, along with the recent glorious achievements of our students on the global stage like the global championship in University MARS Rover Challenge in the USA in Jun 2021 and championship in application category in the UK-RAS Robotics challenge in the UK in Feb 2021 for UV disinfection robot for COVID-19 are much treasured by the department. As we cherish the recent amazing achievements on the global stage by our students, we also want to create platforms that can further advance our students' skills and inspire others. Hence the Dept of CSE and MIST Computer Club are excited to organize this event.
The event website and problem statements for all event segments were unveiled by the respected Commandant of MIST on 6 September 2021.

Registration for all events is now open and can be done on the event website.
Here are the key details for the fest:
Important Dates
Submission opens:

5th September 2021

Submission ends:

30th September 2021

Final event:

3rd week of October 2021
Event Details
Venue:

Online

Organized by:

Department of Computer Science and Engineering (CSE),




Military Institute of Science and Technology, and MIST Computer Club
Event Segments
Project Showcasing

Hackathon

Mobile App Contest

Essay Competition
Segment Details
| | | | |
| --- | --- | --- | --- |
| | Eligible Candidates | Registration Fee | Team Formation |
| Project Showcasing | University Students | 100/- per participant | 3 to 5 members |
| Hackathon | University Students | 100/- per participant | 3 to 5 members |
| Mobile App Contest | University Students | 100/- per participant | 3 to 5 members |
| Essay Competition | College Students | Free | Individual |
Prize Money
1st

2nd

3rd

4th

5th

Total

Project Showcasing

20,000/-

18,000/-

15,000/-

12,000/-

10,000/-

75,000/-

Hackathon

(3 challenges)

20,000/-

(x 3)

15,000/-

(x 3)

10,000/-

(x 3)

-

-

1,35,000/-

Mobile App Contest

(3 categories)

15,000/-

(x 3)

12,000/-

(x 3)

10,000/-

(x 3)

-

-

1,11,000/-

Essay Competition

10,000/-

8,000/-

7,000/-

6,000/-

5,000/-

36,000/-

Grand Total

3,15,000/-

For Regular Updates, Check Our Facebook Pages: MIST Computer Club, Event Page
For further details, check the Event Website: https://ict-innovation-fest-2021.mist.ac.bd/
or click on the picture below to visit the event website.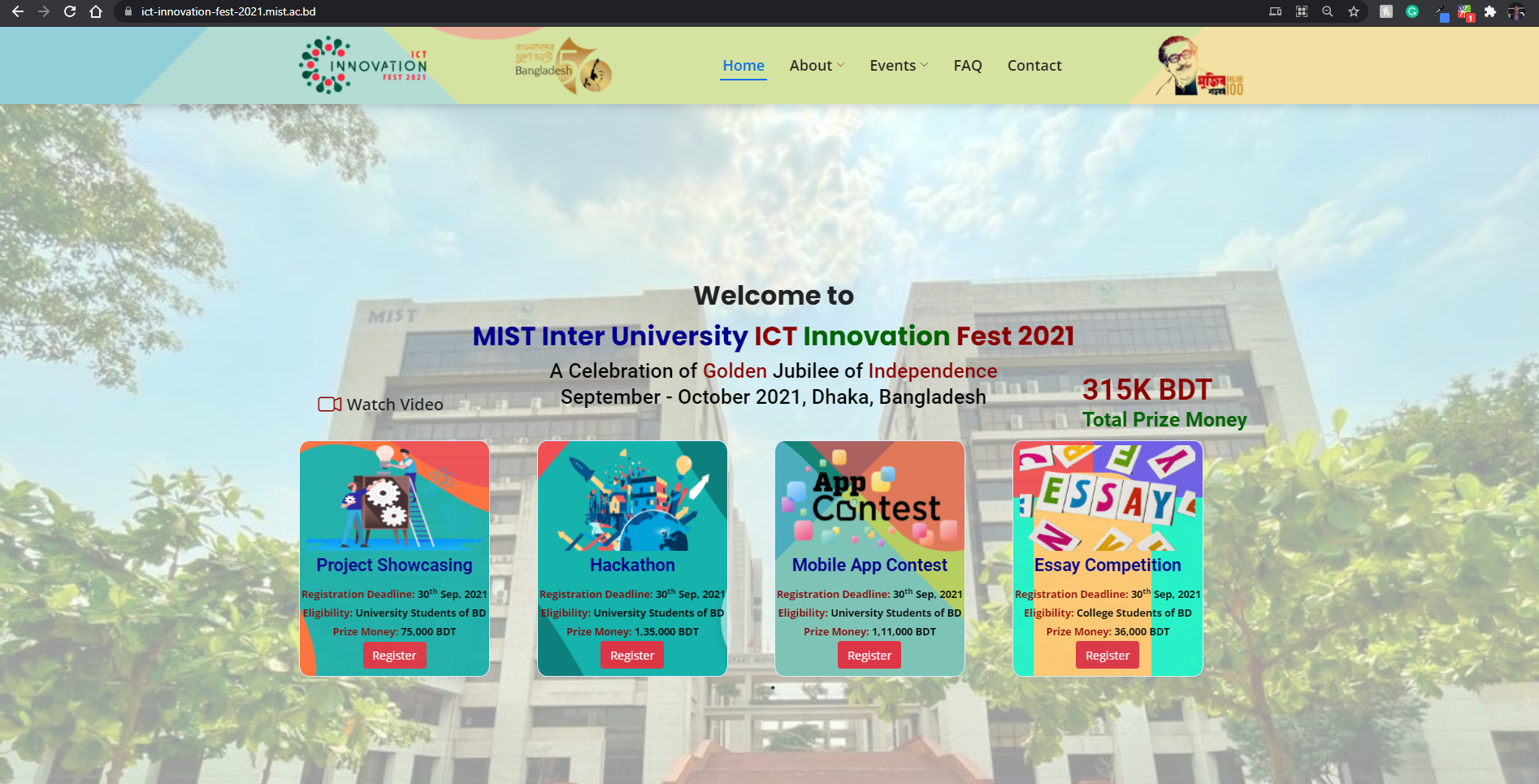 Looking forward to your all your innovative ideas and solutions at the event!

Remember to register and submit the initial ideas by September 30.